Handheld Nutrunner : Handy2000 Touch
Features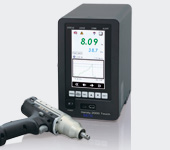 Handy2000 Touch is the controller designed to improve the usability with a large size touch screen.
It has a backward compatibility with EH2-HT30/40 series, and all types of EH2 series tool model can be connected with.
The Boost mode which increses the free run speed 150% faster than current controller models is added.
Icons assist the user for easy operation of editing parameters and viewing tightening records without PC.
Based on the concepts required by users such as fastening accuracy, environment friendliness, safetiness, handheld nutrunner as accurate as fixtured nutrunner is now available with minimized reaction force.
This series are all transducerized and angle, pistol and straight tools are available.
Various applications are also available in order to fit various conditions of fastening.
Quality
Tool performance is tested with the equipment complaied with ISO5393.
Fastening accuracy 3σ/ x ≤ 3% F.S. (on direct mode).
Manufacturing in accordance of ISO9001.
Environment
Electrical consumption is 1/20 compared to pneumatic tool (*by ESTIC reserch).
No oil mist and noise reduced
Ergonomics
Reaction force is remarkably reduced with patented pulse drive technology (Patent USA, China and Japan).
Ergonomics design is adopted to reduce user's work load.
Tracer Arm and Reaction Arm are available for Pokayoke and assisting work.